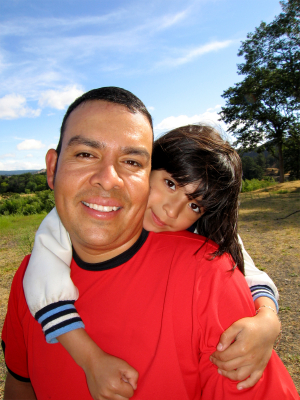 This may surprise you: There are now more single parent families (30%) in the US than two parent family households (24%). Yet, most churches continue to give a backseat to single parent families as the traditional nuclear family remains the primary ministry focus. This remains true even in NJ where single parent families (families run by single parents) have increased more than four times as fast as married-couple families since 2000.
According to our extensive online survey of singles and church attendance, the above facts leaves many single parents feeling like "second class citizens" and a large majority end up avoiding church all together. How sad!
Additionally, there are many difficulties surrounding being a parent, single or married, in the 21st Century, and  this is one of the reasons we are  gearing our church toward families with kids.
Oasis Church and Single Parent Families Ministry
At  Oasis Church, one of our primary ministry goals is to minister equally to singles, single parent families and married couples. Therefore, if you are a single parent looking for a good church or support group in the Central NJ area, we want you to know that there is a place for you and your children at the OC in NJ.
We want to warmly invite you to join us in one of our Connect Groups for support, spiritual encouragement and friendship. You could also contact us about our single parenting seminars that will be taking place in different areas of Middlesex, Somerset and Union Counties like  Scotch Plains, Fanwood, Union,Bridgewater, South Plainfield, Edison, Middlesex, New Providence, Mountainside, Cranford, Clark, Summit,  Springfield, Plainfield, North Plainfield, Garwood, Kenilworth, Watchung, Chatham,  Roselle, Roselle Park, Kenilworth, Millburn, Edison, Woodbridge, South Brunswick, Somerset, Franklin, Green Brook, Dunellen, Piscataway,East Brunswick, Greenbrook, New Brunswick, Perth Amboy, North Brunswick and many other locales.
Have kids between the ages of 0 and 5th grade? Feel free to  check out Oasis Kids Sundays at 11am your kids can have fun learning about God and enjoy interactive crafts, games and activities. We also, have an awesome Teen Youth Program as well, that meets Fridays
Overall, we realize single parenting is one of the hardest jobs in the world. That's why our purpose at Oasis Church is to equip and encourage single parent families to thrive spiritually and emotionally as they do life together.
Oasis Church services singles and single parents from Scotch Plains, Mountainside, Summit, Clark, Cranford, Union, Springfield, North Plainfield, Fanwood, Plainfield, Elizabeth, Roselle, Roselle Park, Maplewood, Irvington, Millburn,Short Hills, South PlainChatham, Madison, Watchung, Berkeley Heights
More on Oasis Church in New Jersey: