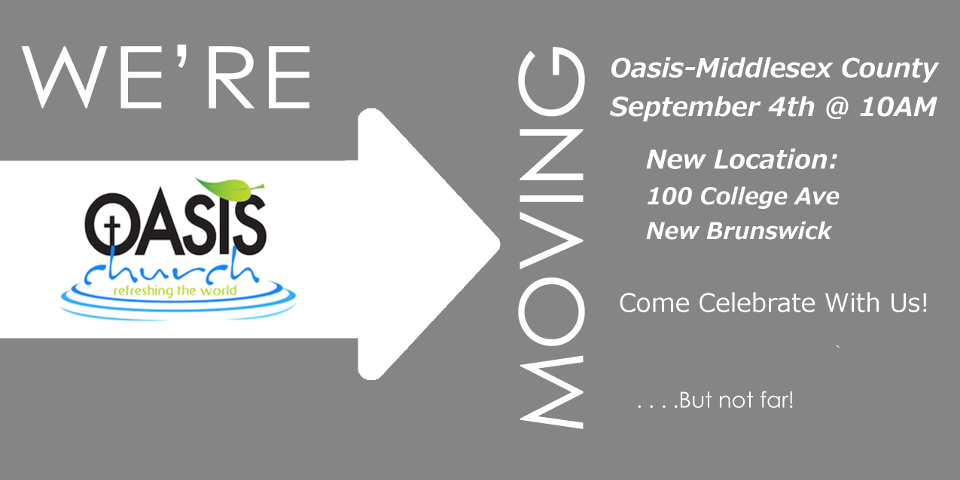 We are really excited to announce our move from Regal Hadley Cinema on September 4th to 100 College Ave in New Brunswick. You may be be thinking, "Wait a minute! Isn't this the same location as our ROC location?" The answer to that is Yes! After literally 45 different meeting options were closed on us, after much prayer, our TEAM has decided that this location is where the Lord wants Oasis-Middlesex County at this time.
Mark the Date & Celebrate with Us!
This new spot  is only 10 minutes from our Regal location. Here, we will be able to reach a new area and target in New Brunswick and the surrounding towns such as North Brunswick, Franklin, Somerset, Piscataway and East Brunswick. Of course, although we have another church site in ROC geared primarily toward the Rutgers students and  the Rutgers community, Oasis will no doubt attract Rutgers college students here as well 🙂 There is easy access to the church right off Rt 18 north or south.
Church Options for Everyone!
Oasis-Middlesex County starts  September 4th and will gather Sundays 10AM SHARP at 100 College Ave in New Brunswick.
Rutgers-Oasis Church (ROC)  launches September 11 and will meet Sundays 12 Noon SHARP at 100 College Ave in New Brunswick.