Join us this Saturday for our Baptisms!
We will be meeting at 12 Noon at Round Valley Reservation to celebrate the NEW LIFE of 6 beloved members.
Where: 1220 Stanton Lebanon Rd, Lebanon, NJ 08833
What to bring:
Pack a picnic meal, a picnic blanket, sun protection (glass and sun screen) a modest bathing suit, chair and active clothing for some of the hiking and sport activities.
Walking to down to the baptism area is rocky and on a slope, please be careful and bring sneakers.
Where to park:
The SOUTH  LOT. This parking lot is not as large as the other ones, but its the parking lot closest to the baptism area.
The first right once you enter the park.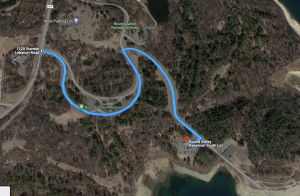 Round Valley Recreation:
There is NO ENTRANCE CHARGE. You may swim, kayak, hike, ride bikes, etc.